Clinical chair appointed for biggest CCG merger in the country
Three merging Birmingham and Solihull clinical commissioning groups have appointed local GP Peter Ingham as their new clinical chair.
Dr Ingham is a partner at the Sutton Coldfield group practice and has been in the Birmingham CrossCity CCG governing body for the past four years.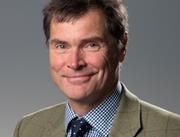 Dr Ingram said the new CCG 'would build on the great work already done by the three CCGs'
Birmingham CrossCity, Birmingham South Central, Solihull CCGs are merging in April, forming the country's biggest CCG.
It was one of 18 CCGs NHS England approved to merge last month.
Appointing a joint clinical chair was one of the NHS England's conditions for approving the merger.
Dr Ingham said: "I am thrilled to be elected by the membership as clinical chair for this exciting new organisation, which will be the largest CCG in England. Building on the great work already done over the past few years by the three CCGs, I am committed to ensuring that the people of Birmingham and Solihull receive the best quality of care, when and where they need it most."
Rhod Mitchell, chair of the Birmingham and Solihull health commissioning board, said: "I am delighted that Dr Ingham has been appointed to the clinical chair role. He brings with him a passion for primary care, and the determination to provide our patients with the best possible health outcomes."
Source
CCG statement
Source date
7 December 2017