Exclusive: Hospital boss appointed NHS Improvement chief executive
NHS Improvement has appointed the boss of a leading hospital trust as its chief executive, and will pay him a salary of £287,000, HSJ can reveal.
Ian Dalton will take over the role, which is a permanent appointment rather than a secondment, on 4 December. He has been chief executive of Imperial College Healthcare Trust for the last four months, and his salary will match that at the Shelford Group trust.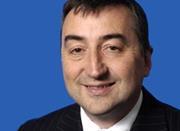 Mr Mackey's salary was around £220,000. Simon Stevens, NHS England chief executive, is paid around £190,000.
Current NHS Improvement chief executive Jim Mackey is due to take part in his final NHSI board meeting tomorrow before returning full time to Northumbria Healthcare Foundation Trust, from which he was on secondment. He had been expected to leave earlier in the autumn, but the appointment of his successor has seen substantial delays.
Before taking up the Imperial job in July, Mr Dalton spent three years as president of global government and health for BT Global Services.
He has held numerous senior NHS posts. He was deputy chief executive and chief operating officer of the NHS Commissioning Board (now NHS England) when it was first created, under Sir David Nicholson. Before that he was managing director of provider development at the Department of Health, where he was responsible for the foundation trust pipeline, chief executive of the North East strategic health authority, and earlier in his career was chief executive of two hospital trusts. He also worked on the reconstruction of civilian health services in Iraq.
NHS Improvement medical director Kathy McLean has been acting chief operating officer and the organisation this morning that she would now take on the COO role on a permanent basis, as well as continuing as medical director.
In a statement issued by Imperial Mr Dalton said about his depature: "These are challenging times for the NHS and I feel a duty to play my full role in helping trusts across the country to respond effectively, for the benefit of patients and staff."
In a statement from NHS Improvement, Mr Dalton said: "The NHS is one of the best healthcare systems in the world and delivers excellent outcomes for millions of patients. However these are challenging times for the NHS and I want to play a full role in helping providers across the country respond effectively for the benefit of patients and local communities.
"I bring much valuable insight with me from Imperial College Healthcare as well as from my time leading a range of other NHS organisations."
The regulator's chair Baroness Dido Harding, who was appointed last month, said: "Ian brings with him considerable experience at provider, regional and national levels in the NHS. His focus will be to develop NHS Improvement further so we can continue to improve how we support NHS providers and local systems to deliver the best possible care for patients."
The former TalkTalk chief executive added: "I would like to take the opportunity to thank Jim Mackey for the enormous and invaluable contribution he has made in his two years at NHS Improvement. He has been an outstanding leader and I wish him the very best for his return to Northumbria Healthcare."
Imperial College Healthcare Trust's medical director, Julian Redhead, will become its interim chief.
Trust chair Sir Richard Sykes said: "I'm sorry that Ian has only been able to be with us for a few months but pleased that someone with his skills and experience has agreed to take on the important role of overseeing and supporting NHS providers nationally.
"We have a very strong and capable executive leadership team at the trust, built up during the three years of Dr Tracey Batten's leadership and continued under Ian. Our interim leadership arrangements allow us to make the most of our internal strengths and to proceed on our existing course. We will take forward arrangements to appoint a permanent chief executive in the new year."
At Imperial, William Oldfield and Tim Orchard will take over the responsibilities of the medical director.
Health Secretary Jeremy Hunt said: "It is with great pleasure that I welcome Ian Dalton to the role of chief executive of NHS Improvement. Ian's extensive experience and motivation for improving patient care will be crucial and I have every confidence he will continue to drive improvements for patients across the NHS alongside the recently appointed chair Baroness Dido Harding.
"I'd like to offer my thanks to Jim Mackey for his strong leadership and unwavering determination to improve services for patients over the past two years, and congratulate him for the progress and successes NHS Improvement has delivered to the health and social care system under his watch."
Minister of State for Health Philip Dunne said: "With an extensive record of NHS leadership, Ian Dalton will bring a wealth of experience from the heart of the health service and I look forward to working closely with him and the rest of the team at NHS Improvement. I'd also like to thank Jim Mackey for his formidable leadership over the last two years."