New chief executive for 'outstanding' hospital trust revealed
Frimley Health Foundation Trust has appointed a new chief executive to take over from Sir Andrew Morris, the longest serving chief executive in the NHS.
The appointment of Neil Dardis, who currently has the top job at Buckinghamshire Healthcare Trust, was ratified by Frimley Health's council of governors at a special meeting on Wednesday night.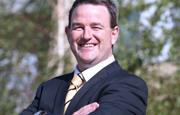 Sir Andrew announced his retirement in the summer and will leave the trust in February after running it since 1989. He will retain a role overseeing the Frimley Health accountable care system.
Mr Dardis has been the chief executive of Buckinghamshire Healthcare since April 2015 and joined in 2013 as chief operating officer. He also leads the Buckinghamshire accountable care system, which like Frimley was announced in the summer as one of the first eight ACS.
Frimley Health chair Pradip Patel said: "We have been very lucky to have one of the best leaders in the NHS at our helm for the past three decades. Sir Andrew has helped guide the trust to providing some of the best services that the NHS can offer.
"After careful consideration, we felt that Mr Dardis represented the best match for our organisation as we enter a new phase of delivering health and care to our community".
Mr Dardis has also worked in senior management roles at East and North Hertfordshire, Royal Free London, and Hammersmith Hospitals trusts during his 20 year career in the NHS.
His start date is yet to be confirmed.