New NHS Improvement chair urged to retire Tory whip
Conservative peer Baroness Dido Harding confirmed as NHSI chair after Commons health committee endorsement
Committee recommends she relinquishes Tory whip and sits as a crossbench peer
Baroness Harding was challenged over political independence at pre-appointment hearing
The Commons health committee has endorsed the appointment of Baroness Dido Harding as NHS Improvement's new chair, but recommended she relinquish the Conservative whip.
The Department of Health confirmed Baroness Harding's appointment on Friday afternoon.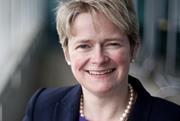 Source: LinkedIn
Baroness Harding: 'I have no hesitation in challenging government of whatever party'
She will be paid £63,000 a year and work 2-3 days per week. She will start her four year term on 30 October.
The committee's statement said it was pleased to endorse Baroness Harding, a Conservative peer, as an appropriate candidate to chair the regulator.
However, it did not accept her argument that resigning her position in government would be "tokenistic".
The statement said: "We recommend that Baroness Harding should relinquish the Conservative whip in the House of Lords and sit as a crossbench member of the House for the duration of her appointment. We do not accept, as she argued, that such a move would be purely tokenistic, but rather feel that this decision would allow for greater parliamentary and public confidence in her ability to challenge government ministers and policies if this role demands it."
The committee also recommended Baroness Harding compensate for her "lack of professional experience" by listening and learning from as many NHS patients and staff as possible.
The former TalkTalk chief executive, who is married to Conservative MP John Penrose, appeared before the committee in a pre-appointment hearing on Tuesday.
She was challenged on how her political independence and her use of private healthcare.
Baroness Harding said she did not believe her appointment was "political". She said she would remove herself from any NHSI decisions involving her husband's constituency of Weston-Super-Mare, and would not vote on health and social care matters in the Lords.
She added she would be a "thorn in the side" of ministers, and argued the NHS clearly needed more funding.
"I have no hesitation in challenging government of whatever party if I think it's the right thing to do for the organisation I am running," she said.
Health minister Philip Dunne said: "I am delighted that we have appointed Baroness Harding as the chair of NHS Improvement. She brings to this role significant experience from a number of businesses and voluntary sector organisations and I am confident her energy, enthusiasm and leadership skills will be of great benefit not just to NHS Improvement but the NHS as a whole."
NHS Providers chief executive Chris Hopson welcomed the appointment. He said: "We have been impressed by her understanding of the requirements and subtleties of this role and her willingness to listen to the provider sector. We note that she has set out her determination to challenge the government when necessary, and we expect to see her making a strong case for the NHS."
Related links