Trust spent £60,000 to find chief executive who left after four months
Ian Dalton was appointed as chief executive of Imperial College Healthcare Trust in July but was announced as chief executive of NHS Improvement last month. He joined the regulator on 4 December.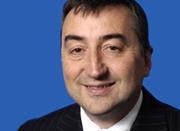 Ian Dalton became chief executive of NHS Improvement this week
The trust spent the money over six months with Russell Reynolds Associates to recruit a substantive chief executive.
In a statement, the trust said: "When we take forward plans to appoint a permanent chief executive in the new year, Russell Reynolds Associates will be conducting a search at no additional cost."
Mr Dalton replaced Tracey Batten as substantive chief executive at the £1bn turnover trust in west London.
Dr Batten returned to Australia for family reasons after three years at the Shelford Group trust.
Until a new chief executive is appointed, medical director Julian Redhead will act up to cover the role.
After the departure of previous chief executive Mark Davies and before Dr Batten's arrival, Imperial was run by an unusual tripartite joint chief executive arrangement featuring the then finance director, medical director and chair Sir Richard Sykes.
Source
Information provided to HSJ
Source date
December 2017